Water Rates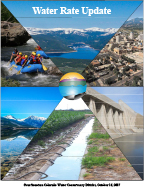 In 2017, the Southeastern Colorado Water Conservancy District Board began looking at its financial structure in a series of in-depth "Framing the Future" presentations. One of the outcomes of this investigation was an attempt to match revenues with appropriate expenditures in both the General Fund and the Water Activity.
The District's rate for Fryingpan-Arkansas Project water has not changed for 20 years, so the District is considering an increase in water fees in 2018. These increases would reduce shortfalls in current revenues over expenditures and begin to establish reserve accounts for future funding needs.
A water rate study is planned to coincide with upcoming Contract negotiations with the Bureau of Reclamation.
Download the Water Rate Brochure
Contract Negotiations
On September 21, 2017, the Board voted to enter negotiations with the U.S. Bureau of Reclamation for a conversion of the Repayment Contract that would allow the District to continue paying for the local share of operation, maintenance, and repayment. It would also allow the District to use the entire 50-year period to pay off construction of the Project.
The original Contract with Reclamation was signed in 1965, and the second amendment to the contract was signed in 1981. Repayment began in 1982, and under federal law will be completed by December 31, 2031.
Debt: The Project cost to the District was $134 million (including municipal interest) in 1982. By July of 2018, about $21.7 million in debt remained. Payment is made from ad valorem taxes from 0.9 mills of property tax on property in parts of nine counties, totaling about $7 million a year. A small portion of payment, about $140,000, comes from Winter water storage charges. The debt payment would be spread out until 2031 to allow more capacity for OM&R.
OM&R: Routine operation of the Fry-Ark Project costs the District about $2 million annually, but those costs are expected to increase dramatically in coming years. One example is the cost of sealing joints on the concrete buttresses on Pueblo Dam. The operation is expected to cost at least $37 million over several years, and the District's expense would be $19.9 million.
Contract negotiations will be open to the public.
Water Rate Study
One of the reasons for beginning a water rate study in 2019 or 2020 is that the District does not yet know how large a reserve fund will be needed for Fry-Ark needs.
In addition, the Activity Enterprise also will be facing costs for new projects, such as Restoration of Yield reservoirs east of Pueblo Reservoir or dredging for Recovery of Storage at Pueblo Reservoir.
District staff will have time to identify and refine cost estimates for these activities in order for accurate assessment in the rate study.
Once the rate study is complete, the District will have a better picture of whether rates need to be raised or lowered.